The Award was presented by Bulwark at GITEX Technology Week 2017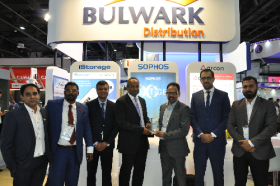 Batelco, Bahrain's leading digital solutions provider has been presented with the award for Best Sophos Partner in Bahrain, at GITEX 2017 by Bulwark, the regional Value-Added Distributor for Sophos products.
GITEX is the biggest annual ICT event in the MENA region, which took place recently at Dubai World Trade Centre.
Speaking following the presentation, Batelco Chief Operations Officer,Abderrahmane Mounir said,that Batelco is very pleased to have achieved this success and receive the Best Sophos Partner award for its efforts in delivering Sophos products and solution for its business customers.
"This achievement would not have been possible without the diligent efforts of many teams at Batelco who continue to prioritise the requirements of our business customers," he said.
Batelco signed a platinum partnership agreement with Sophos, a key IT security and data protection company, on the side-lines of GITEX in 2016. Batelco is constantly on the quest to expand its security services portfolio in order to support the increasing security requirements for organisations across all sectors and the collaboration with Sophos is effective in meeting this requirement.
Bulwark Managing Director Jose Thomas Menacherry said, "We are very pleased to recognise Batelco as the Best Sophos Partner in Bahrain for its outstanding efforts in delivering Sophos solutions for its enterprise customers."
"Together Sophos and Batelco can make a significant contribution in improving the IT security landscape of Bahrain and we are focussed on supporting both organisations in their efforts," he added.
ABOUT BULWARK
Bulwark Technologies LLC is the leading provider for IT Security and Information Communications & Technology (ICT) products in the Middle East region. Headquartered in Dubai, Bulwark serves the entire region with innovations from more than 20 technology vendors and works with more than 350 partners, with the aim of bringing the best in technology to the Middle East. Customers from various sectors including Banking, Finance, Government, Manufacturing, Hospitality, Medical, Education, Petroleum and more rely on solutions distributed by Bulwark for securing and managing their IT infrastructure. Bulwark has won numerous industry awards for leadership in IT sales and support, and has been rated as the best VAD in the region. For more information, please visit http://www.bulwark.biz/
For further queries, contact:
Ms. Sonali Basu Roy | Marketing Manager
Phone: +971 56 5083225 | E-mail: sonali@bulwark.biz
www.bulwark.biz